Fuze the MC
I recently had the opportunity to speak to Atlanta lyricist Fuze the MC. Fuze the MC is a rising lyricist who in 2010 Big Boi, proclaimed "the dopest nigga of the year". Now Fuze may have been born and bred from the city of Southern rap's elite, but he is also a student at the Howard University in Washing ton, DC. He is a rising senior studying Radio - TV, and minoring in Electronic Studio. I wanted to get to know him not only as an artist, but as a student. Check Fuze's resume, he's no freshmen in the game and he has a new project set to release this winter. It's hard enough balancing school and a social life, let's see how he does that and more.
I know it has to be difficult during the school year. How do you balance school and work?
I mean I don't balance it very well (laughs). Mainly I try to stick to stuff on the East coast that I can get to pretty quickly and get back to DC and try to miss minimal things in my classes. Then just having a dialogue with my teachers, you know? It's just fortunate at Howard most of my teachers are really supportive. So just keeping that dialogue open with my teachers like,"Yo, I'm going to have to be in a meeting or I'm doing a show". Just to let them know what's going on and trying to get the work in on time, but it's still very very difficult. It's still hard (laughs)
I was also a Mass Comm major, so I know what it's like in that department. We're lucky because our department is pretty understanding.
Yeah definitely. I mean especially in Radio – TV, everyone in there is in that space. So they understand me, what it takes.
You did a little videography for Lil Wayne's tour this summer, that couldn't count for extra credit?
Yeah, I tried that once. It didn't really work. (laughs).
It's your last year of undergrad, how many credits are you taking & what kind of classes?
I'm taking 18 credits both semesters. And I'm not going to lie to you, to be honest I haven't even looked at my schedule since I made it in May. But it's a lot of electives. I got most of my core classes out of the way. A lot of stuff for my minor. I'm an Electronic Studio minor, so I have to take Digital Design 2. Mostly stuff for my minor and some electives. Like I have to take another Phys Ed class. That's about it.
You're probably a pretty popular guy on campus, do other students come up to you & ask you to listen to their music?
It's pretty funny. Howard is a special place. Everyone at Howard, they think highly of what they're doing in relation to everyone else. Everyone is doing something groundbreaking or amazing,
especially as far as artists and producers. So really it's not as many people as you would think that would try to push the music down my throat. Most of that occurs other places, like around DC. Really at the house, I listen to everything. Well not everything, but from every person I try to listen to one or two things that they have because we have an entertainment collective that started at Howard and we're always looking for talented people to join and help out in different fields not just music. So I keep an open ear. As far as people trying to get me to promote their stuff I just tell it to them like, Yo I can't do this for everyone. I got a team of people I'm already trying to do it for. If I did it for everyone who approached me, it'd be impossible. And people are pretty understanding if you just speak to them like people and not just act like an asshole. Most people understand where you're coming from if you just take the time to explain the situation to them.
How has attending Howard University affected your music career? The good and the bad.
As far as my music career, being at Howard is what got me a lot of my connections, a lot of my inspiration. The guy I work for, well the company the Blueprint Group, I happen to meet my direct boss at an event that was being thrown at Howard's campus. Almost all the producers that I work with on a regular basis, they were my dorm-mates in Drew Hall. Most of the people in my entertainment collective started at Howard. So it really shaped my current lifestyle in general. More so than that,
it really taught me how social circles work and how different social circles are set to what's going on in a community because Howard's a lot like the real world just condensed to a small space.
In a social aspect it's the same in a lot of areas. A lot of what you know is less important sometimes than who you know in getting into certain opportunities and landing in certain places. And just being in DC in general, I'm from a suburb in Atlanta, so I never really been around constant violence to an extent. I mean I had I had friends in the hood, but I wasn't there on a regular basis. So being at Howard has really shaped me to understand "There are people who are just waiting for you to slip and to keep your eyes open at all times". And for better or worse its made me a lot more paranoid to an extent, and to be more aware of my surroundings and to be careful
So would you consider it a culture shock?
Not so much a culture shock. Because I've always had friends who were from all over, like super rich friends and dirt poor friends and I also lived in Mississippi for a while. So it wasn't so much a culture shock, just kind of the mode. I guess that would be a culture shock in itself. People didn't really smile as much. Random people don't wave at other people, and GoGo. GoGo was mind blowing to me, but other than that no. It's been pretty chill.
You're even hosting Howard's freshmen week events with Noble Black Society which is abbreviated NoBS. Tell me more about NoBS
We came up with the name before we figured out the abbreviation. Yeah, it's definitely a double
entendre
on the phrase. The
No
from Noble and the
BS
from Black Society. But we are an entertainment collective, family or entertainment collective that started at Howard University.
Our purpose is to redefine what it means to be black, and our definition of black isn't necessarily a racial term. It's more so a state of mind. The power and everything that people are afraid to understand. The kind of power that comes from that shadow being cast over you. In the darkness everyone is black. We're really just trying to highlight the power that comes from that circumstance.
So it's definitely based on, but not limited to the African American experience
.
So we do social events, community service. Admittedly that's one of our weaker points, but we've done some projects like Project Gift Back and giving out food at Thanksgiving. We plan to amp that up this year. We just brought in our formal intake of new members, with 30 new members. I'm really excited to see how this year goes with all the new people.
So NoBS consists of rappers, singers, producers, etc?
Yeah we have rappers, singers, producers, artists, some people who just work on the management side, some TV personalities. Pretty much anyone in the entertainment space, and we just help each other with our different goals. If there's a model we have that really needs to get their portfolio together, we'll meet with one of the NoBS photographers and vice versa. Just so we can keep everything internally and working with each other towards a common goal.
What I personally like about your music is it's reminiscent of the 90's Hip Hop era. Outside of Hip Hop what genres do you like or see yourself collaborating with?
I really like working with singers. I really would like to work with Adele. Outside of her, Jhene' Aiko. There's just a long list of singers that I'd like to get in the studio with, because a lot of my music, even those hip hopy and boom bappy I use a lot of singers on the hooks. I like melodic hooks, they're my personal favorites. So really a lot of R&B and pop singers and getting them out of their elements and me out of mine. I'm really interested in seeing that. Not pop like Britney Spears, more like Indie Pop if that makes sense. I'm really just down for whoever, or whatever dope musicians I come across. On my next project I'm going to be focused on a lot of the really cool people I've met who you probably wouldn't expect to hear in traditional sounds that I'm working on. Anybody who's musically inclined really. I don't really judge based on the types of music. Any kind of collaboration could work well if the vibe is right
If you were approached by a label and they offered you a deal, would you take it or remain Independent with NoBS?
Independent is a weird phrase, because before what that meant is either you had distribution or you didn't. It's a lot different now with services like iTunes and Soundcloud, it's an infinite amount of ways to get your music to the fans. Even receive compensation for it, if you chose that. In the old days a deal meant that you could get your music to your fans or you couldn't. Now, a deal means something entirely different. Because Jay Z just signed a deal with Samsung to distribute his record, or it could be like Macklemore. He technically doesn't have a deal at all, he's independent, but he still has distribution through a major label. So, to answer your question for me personally, if it made sense then yes. I probably wouldn't sign to a traditional 360 deal that a lot of rappers are looking to get into because essentially it's a high interest loan where the label is going to recoup on everything and then you only get a small percentage for your masters. I'm not interested in a deal like that, but if the deal that was on the table was something that I could work with in my creative space and was something in what I'm trying to accomplish without compromising myself then of course. I'm always looking for deals, I'm looking for shoe deals, clothing deals. Deals are what make the money, but unless it was an absorbent amount of money with a lot of creative control, which is a possibility that does happen these days. Outside of that I probably wouldn't sign a traditional record deal.
Has there been any performance you've done thus far that has really resonated within you?
Probably this show I just did in Oakland [CA]. With Travis Scott and Casey Veggies. It was weird because I was added on at the last minute. Travis's manager arranged it for me since I was already out here, so I went out and did the show. I didn't really do any promo of my own, I wasn't even on the original flyer for most of the promo dates. But when I got to the show I had a very decent amount of fans who were already there. It was kind of weird for me because I wasn't expecting to go into this space with other artists and have people hat were fans and supported the movement. When I performed on stage I performed two tracks that hadn't actually been recorded, one of them still hasn't. So literally no one had heard these songs except for me, my producer, and a few other people. So I just wanted to test the waters with it, and it was a really really amazing reaction to it. So, that it gave me the confidence like
"I'm going in the right direction. The music is really out there reaching people. It's not just a fake thing".
Because it's really hard to process what online buzz really translates to in the everyday world. When I go to shows and I have 30-40 people there who know the words to my songs. It was a really unique experience for me. Especially since I haven't really been out in very recent times because I've been working very hard on this project.
I asked about Fuze the MC's most recent track Trouble of the World. He's meeting with the video director soon and will begin shooting the visuals this month. Listen to it here.
He has also released the cover art to his forthcoming album Boom Boom Clap created by Pathetic Pixels
You can expect more news and information to start flooding in by September.
If you are a rising freshmen at Howard University, be sure to check out
Noble Black Society's
freshmen week events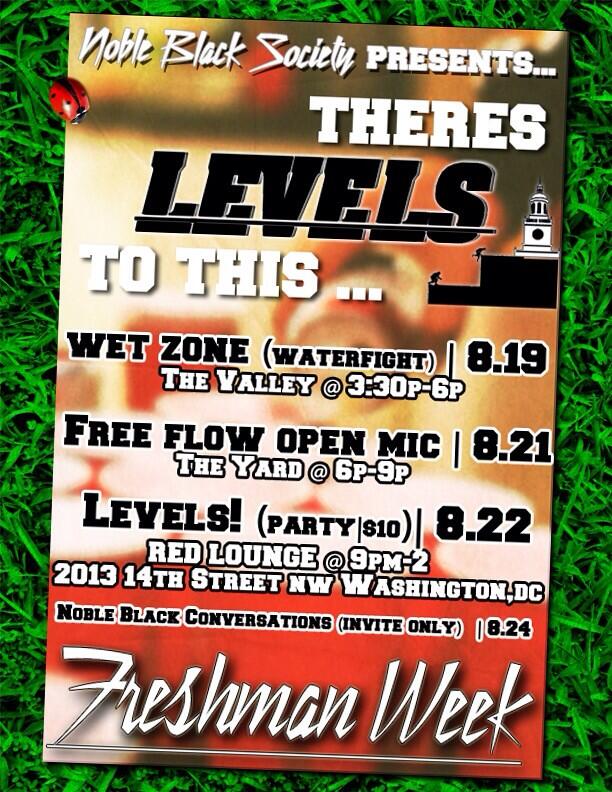 Connect with Fuze the MC
Keeping A Close Eye | UMG, Trice S.